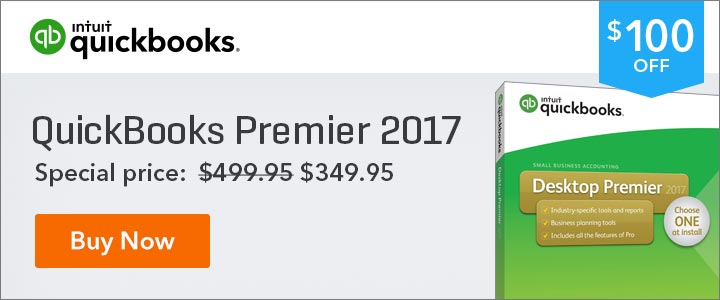 QuickBooks Premier Features
Make better decisions with enhanced reports that are easier to read, customize, comment on, and send.
Get the full picture of your business performance -- see your profit and loss, income and expenses, and top customers instantly.
Save time using improved Accountant Collaboration Tools, easily save a copy of your company file on a shared folder directly from QuickBooks Premier.
View and pin important notes about customers, vendors, and employees.
Find all reminders and notifications in one single window - overdue items, to-do tasks, system notifications, and notes from accountants.
Add multiple attachments, customize email templates to include customer or job info, and see prior email conversations with powerful email capabilities.
See all your income-producing transactions in one spot, including overdue invoices so you can remind customers to pay up with Income Tracker.
Pull in all your banking transactions from multiple banks and accounts so you can view and categorize them for tax time.
Track bounced checks and see key reports in just one click.
Do more with add-on applications and services available in QuickBooks.
Complete everyday tasks faster with simplified customer forms.
Keep Customer, Vendor and Employee contact information at your finger tips.
Easier access to data and transactions with simplified navigation.
Invoice multiple customers for time and expenses in one batch.
See your invoices, billing, and other important tasks in a Calendar View.
Track and follow up on sales leads in the Lead Center.
Access your inventory items all in one place with the Inventory Center.
Attach and store documents in the Document Center.
Access industry-specific report templates created by other QuickBooks Premier users.
See all your key customer information at a glance with the Customer Snapshot.
Set up Memorized Transactions for recurring billing, invoices, and estimates.
Save your worksheet formatting when you export QuickBooks reports to Excel.
Create professional looking invoices and forms.
Track sales, sales taxes, and customer payments.
Send invoices and estimates right from your business Yahoo!, Gmail, or Hotmail account.
Track inventory, set reorder points, and create purchase orders.
Create and print deposit slips.
Easily print checks, pay bills, and track expenses.
Get a real-time view of your business activities with Company Snapshot.
Get insights to make better business decisions in the Report Center.
Import your contacts from Excel or other email address books.
Allow up to 5 users to work in QuickBooks at the same time.
Set individual user permissions to control access to sensitive information.
Create a copy of your company file for your accountant.
Import data from Excel, Quicken, and prior QuickBooks versions.
Download bank and credit card transactions directly into QuickBooks.
Track your balance sheet by class such as a location, department, or profit center.
View customized sales and profitability reports.
Run 'Cost to Complete Job' report.
Track time and expenses by employee, project, client, or service.
Bill clients progressively by job phase.
Document and track change orders.